Frequently Asked Questions About St. Thomas Boat Rentals
You've got questions–we've got answers! Here's some answers to commonly asked questions about St. Thomas Boat Rentals. If you don't see an answer to your particular question, feel free to email us at BeachBumBoatRental@gmail.com and we'll get back to you as soon as possible!
Q: What's The Benefit of Chartering a Captained Boat Instead of a "Bare Boat?"
A: Even if you can captain your own boat, if you're not familiar with the US Virgin Islands or the British Virgin Islands, you run the risk of missing the best places and sights, or running your boat aground. Nothing makes for a better day than a tour guide who knows where to go and exactly how to get there. Our captains know where you can and cannot anchor, how to quickly and easily clear customs, and how to schedule the itinerary you want in the time you have. If you decide to go the "bare Boat" route, you could end up wasting a lot of valuable time and money trying to navigate the islands yourself. It's your vacation, remember? Leave the work to someone else!
Q: How Long Does It Take To Get From Island To Island?
A: That's one of the most unique features of the Virgin Islands–they're so close together, you'll be able to visit or see a number of them in a single day! Of course, weather conditions and the location you want to go determines the amount of time it actually takes, but in general, on a calm day, the ride from Red Hook to Jost Van Dyke takes about 40 minutes. Other popular destinations in the BVI include Tortola, Norman Island, Peter Island, Virgin Gorda, The Baths, Foxy's, Soggy Dollar, Willy T and many small islands and cays in between.
Q: Do You Take Passengers To St. Croix?
A: No. While St. Croix is one of the U.S. Virgin Islands, its too far away from the other islands for a day trip.
Q: How Will We Know Where We Should Go?
A: Do a little research online about the Virgin Islands before you go so you can narrow down some of the many places you'd like to see. A great place to start is on the "Destinations" link on this website. The kind of experience you want will determine the locations you'll choose. Our captains know these waters, islands, snorkel sites and bars like the back of their hands, so we're always happy to make suggestions, but it's your day in paradise, so you decide your own itinerary.
Q: Are There Additional Costs We Should Be Aware Of When Chartering from Beach Bum Boat Rentals?
A: In addition to the Captain's fee (payable directly to the captain, in cash, on the day of the trip), you'll be responsible for the cost of the fuel you use. If you choose to visit the BVI, each person in your party will need to bring their passport and $40.00 cash for customs fee. You'll want spending money for souvenirs, lunch and drinks when off the boat, so be sure to plan for that.
Q: Should We Tip The Captain?
A: ABSOLUTELY!! You are welcome to tip whatever amount you like, but as a guide – a standard tip is approximately 20% of your charter cost, much like the tip in a restaurant. (for example, if the boat rental was $600, a standard tip would be $120).
Q: When Does My Charter Start & End?
A: We're flexible depending on your schedule, but our normal pick up time is 8:30am, and you'll be back around 4:30pm. The boats are at different marinas depending on the boat you select, and we'll let you know which marina to meet the boat at when you book. In some cases, we can pick you up at the beach at your hotel (depending on the hotel), and of course we can pick you up on St. John at the National Park dock. When you make your reservation please let us know which island you are on.
Q: When & How Do I Pay For The Charter?
A: At the time of reservation, we'll charge a deposit to your major credit card to hold your reservation. You may pay the balance by major credit card or cash when you board the boat. The captain's fee, tip and fuel charges are settled at the end of the day before you disembark. Please pay the captain's fee and any tip directly to the captain, in cash. The fuel costs can be charged to your major credit card at the time the boat is refueled.
Q: What If I Need To Cancel?
A: We understand that things come up and plans change. Please notify us at least 48 hours in advance of change or cancellation and we'll refund 100% of your deposit. Deposits for cancellations made less than 48 hours in advance are non-refundable. If you fail to contact us or show up on the day of your trip (within 2 hours of your designated start time), the entire boat rental fee and captain's fee will be fully earned and charged to the credit card on file.
Q: What If The Weather is Bad?
A: Our boat run only when it's safe to do so. If the Captain feels it's not safe to take the boat out due to inclement weather, we'll refund 100% of all monies paid and do our best to reschedule you for another day. If, during your charter, the weather changes and it's not safe to continue your journey, the Captain will return you to your disembarkation point and your cost will be pro-rated based on the number of hours you were actually using the boat (for example, if you were out for 4 hours, or 50% of the time, you would be charged 50% of the charter fee, plus the full captain's fee and fuel costs).
Q: What Should I Bring On The Boat?
A: Bring a towel, sunglasses, sunscreen and a bathing suit cover-up. The Caribbean sun is very strong and its easy to get burned, so be careful! The boats are equipped with a refrigerator or cooler, and they'll have water and soda on board and available to you at no cost. They also have shaded seating, so you will be able to get out of the sun if you would like to. If you'd like to bring something else to eat or drink, we'll be happy to make room in the refrigerator or cooler!
Stereo systems are iPod ready, Bring your iPod or other music device and DJ your own party!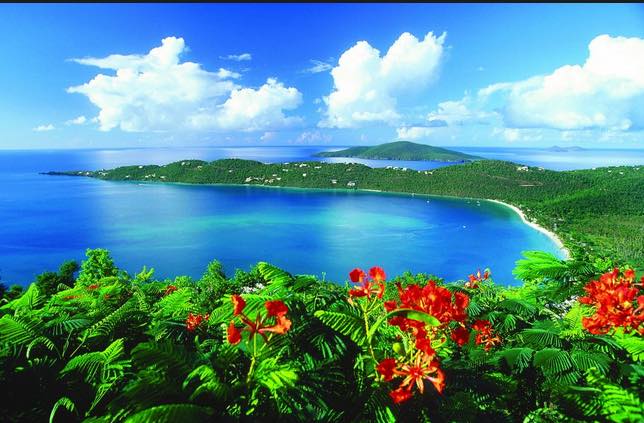 Q: Do You Supply Free Snorkel Equipment?
A: YES! All boats are equipped with high quality snorkel equipment for your use AT NO CHARGE! We have plenty of sets and sizes to fit everyone–from young kids to adults with big feet!
Q: Do I Need a Passport to Travel To The British Virgin Islands?
A: Yes! All American citizens traveling to the BVI require a passport. It is no longer possible to enter with only a birth certificate and picture ID. Citizens of the USA, Canada and most European countries do not require a visa. However, citizens from some other countries are required to have a visa to visit the BVI.
Q: How Do I Book A Charter?
A: 
You can book your Virgin Islands Boat Rental via email or by calling us at 855-550-8728. We'll confirm availability, return your call to discuss your trip, and e-mail a reservation confirmation with instructions on where and when to meet the boat. At the time you make your reservation, a deposit via credit card is required. The balance can be paid at the time you board the charter, via credit card or cash. Remember, the captain's fee is paid separately, in cash, on the day of the trip.
Q:What Safety Equipment Do You Have On Board?
A: On board, we exceed all U.S. Coast Guard required safety equipment, including USCG approved life jackets, first aid kits, flares and ship to shore radio. Our boats are also fitted with radar, a depth finder and chart plotter. Our Captains/Guides are also USCG & British Boat Master Licensed and CPR certified, with years of experience navigating the Caribbean waters.
Reserve Your Beach Bum Boat Rental Now! Call Toll Free (855) 550-8728, or email us here!